Last 2 years were tough for everyone, people handled it differently but one thing came out as common, we all learned something. For me nothing was too different from usual because I have been working from for a long time but after COVID remote working was accepted as a norm. Although I am not a social person but I did miss going out and 2 years staying at home working from my room was a bit too much for me as well, after all I am also a human being. When things were normal we did lot of onsite Jira trainings which I really enjoyed mainly because I got to travel a lot and it was amazing experience meeting people from different places, also I quite like visiting fancy company offices :) I didn't know that I would enjoy travelling, for most of my life I lived in Delhi and it was good experience for me to interact with people from other places.
We are accepting onsite trainings
There was a long pause of 2 years but fortunately things are better now and I am happy to announce that at Sparxsys we are now accepting onsite corporate training opportunities as well. Of course we would still continue to do online trainings but at the same time we would be more than happy now to do these trainings onsite anywhere in UK and India. We are usually very occupied with work and our training slot fill up quickly. So please reach out to discuss your needs, we have done these trainings many times before and we can quickly send you back all the details you need to book us ;)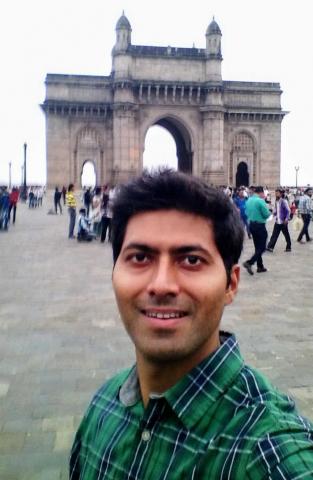 This picture was taken by me on my Blackberry when I visited Mumbai for a corporate training, I think it was Navi Mumbai to be precise where I went for training. Out all the cities I visited Mumbai is definitely on top of my list. I love this vibrant city. I am writing this because if you are a company in Mumbai or Pune and is looking for Corporate training in Atlassian tools then reach out to us ;)
Contact us to discuss your training needs
Please reach out to us to discuss your needs and take it further. We have been doing these trainings for several years now, in fact Sparxsys is one of the first company in India who started providing Atlassian Consultancy services. We feel fortunate that we got the opportunity to work with several companies in the past.
World class learning for free
Also, please consider subscribing to Ravi Sagar YouTube channel where I make daily videos on Atlassian tools. I get lot of enquiries from people for training, although I would love to do individual trainings but it is not feasible always and that is why this YouTube channel is the place where we share our knowledge and give back to the community. I organise all my content be it video, kb or blogs on RaviSagar.in website.
Become Jira Master
All of our videos are free and we indent to keep it that way, so if you think our content helped you in anyway then you can also join our membership program called Jira Master. It is only £2.99 per month and in return all active members will get all future books written after Feb 2022 for free (ebook) and priority response to the support tickets raised on Ravi Sagar Support portal.